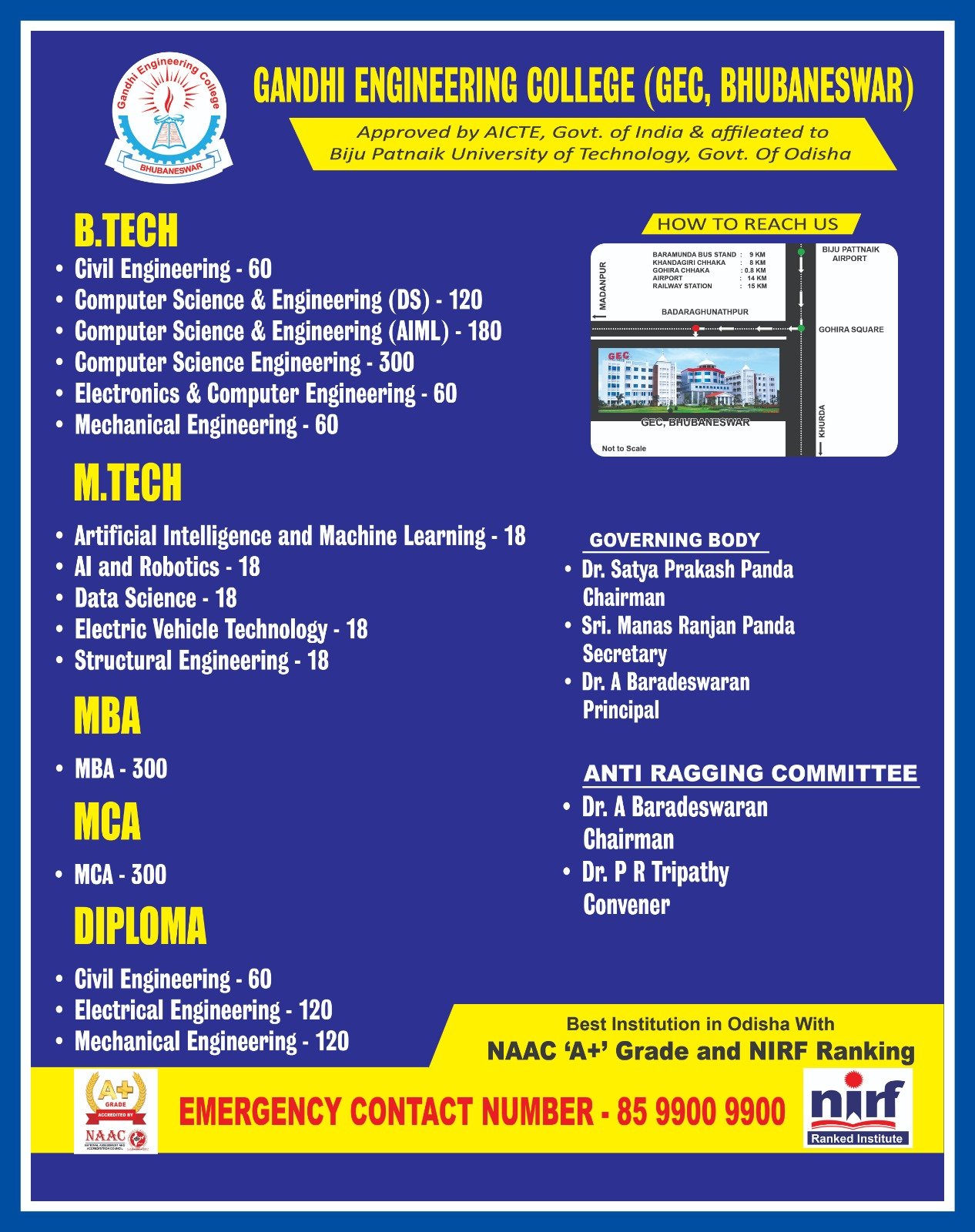 GEC has established its benchmark standards in terms of its quality and innovative teaching-learning process and is a NAAC "A+" graded institution providing tremendous possibilities and scope for all of its stakeholders.
GEC secured the prestigious NIRF 2020 ranking by the Ministry of HRD, Govt. of India.
One of the Best T Schools in the eastern zone of India, as recognized and awarded by Dr. Shiv Nadar. Chairman and Founder of HCL Technologies, at Data Quest Digital India Leadership Conclave.
Established itself as a hub of Academic Excellence and got the award "Education Excellence Award" from Sj. Samir Ranjan Das, Hon'ble Minister of Education, Govt. of Odisha.
GEC is awarded "Best Engineering College in East India for Industry Interface" for an outstanding and exemplary contribution towards Education, Skill Development, and Research.
One among the Top 10 Engineering College for Women in Eastern India, as is recognized and substantiated through the award received from Silicon Media.
Best Engineering College in Eastern India providing 90% above placement every year, by successfully producing a quality and talented pool of professionals for the 80+ odd organizations of national and international repute.
Some of the top-notch industries that recruit GEC students are - TCS, INFOSYS, ACCENTURE, HEXAWARE, MINDTREE, WIPRO, CAPGEMINI, CAVISSION SYSTEMS, INFINITE COMPUTER SOLUTIONS, YAMAHA, BYJU, BITIBE
The highest pay package offered is Rs. 10 Lakhs per annum(By Byjus & HSBC) and the overall average pay package is Rs. 4.14 Lakhs.
GEC is a CERTIFIED INSTITUTE INNOVATION COUNCIL, by the Ministry of HRD, Govt. of India.
Imparts best quality education through its galaxy of top-class renowned faculty members with an affordable fee structure added with a number of scholarship schemes.
A strong alumni base of 8500+ alumni providing a strong bridge between GEC and various industries of national and international repute.
A massively built infrastructure associated with 360-degree security and surveillance system inherently make GEC as one of the first preferred destination among the parents for pursuing technical/professional educations of their wards, specifically highly recommended by the parents of Girl students.
State-of-the-art laboratories with high-powered computing devices make the experiential learning sessions remarkably exceptional.
A full of life and vibrant campus life buzzing with a plethora of curricular, co-curricular, and extra-curricular activities make the campus life memorable.
Situated in the close proximity of city center Bhubaneswar with well connected through National Highway and Biju Patnaik International Airport.
With all sorts of facilities and amenities available within the college campus, makes it feel like a "Home away from Home".